Home
Entertainment
Bigg Boss 11 evicted contestant Luv Tyagi: Vikas made me look like...
Bigg Boss 11 evicted contestant Luv Tyagi: Vikas made me look like a fool and I wanted to prove him wrong
Mumbai, January 8 (KMW): Just a week before the finale, "Lucky Boy" of Bigg Boss 11, Luv Tyagi was ousted in Sunday's episode of Weekend Ka Vaar with Salman Khan. Luv, who was nominated with Hina Khan, Shilpa Shinde and Vikas Gupta, received the least number of votes during the live voting activity that took place at a Mumbai mall. After his eviction, Luv got into an exclusive chat with indianexpress.com. Speaking about his journey in Bigg Boss, he shared, "I am definitely happy to have survived the game so long but yes sad that I couldn't reach the finale. There's a lot more that I could have done but since it's about votes, you don't know what will happen. There's a feeling of dissatisfaction but I am happy overall."
Talking about his eviction that happened via the live voting at mall in Mumbai, which his fans termed as unfair, the young man shared, "I don't think it was unfair as our fans are also present here. The fact that led to my eviction was that I was nominated against Hina, Shilpa and Vikas. I would have got a better chance if I was with Puneesh Sharma and Akash Dadlani."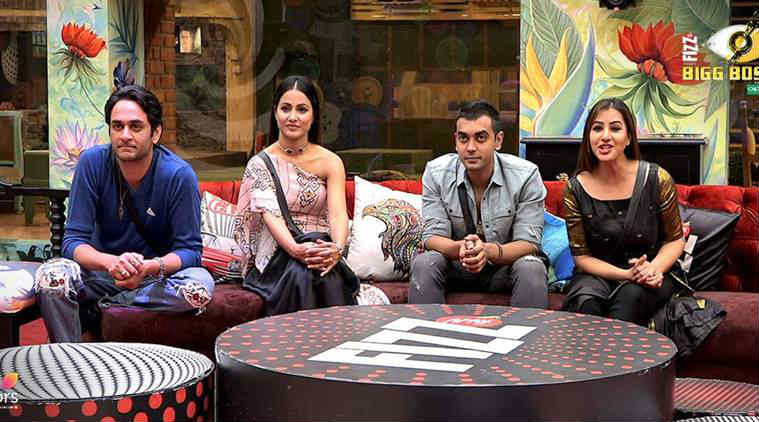 Luv Tyagi was pitted against Vikas Gupta, Hina Khan and Shilpa Shinde.
While many termed him as 'bail buddhi', undeserving and simply lucky to have sustained in the show for so long, Luv fought his way in every task to remain in the game. Ask him if he was lucky or a performer, he quipped, "I am the lucky performer (laughs). Of course luck has been with me but I have equally worked hard. I think the amalgamation of both worked for me."
Luv formed a close bond with his co-contestants Hina and Priyank Sharma but time and again he has spoken against them behind the back. Talking about the same, he said, "My relationships were
1000 per cent real in the house. If something went wrong, I took a stand but that doesn't mean I was a bad friend. Also sometimes you need to vent out emotions and talk to someone, so I had to talk to others to pour my heart."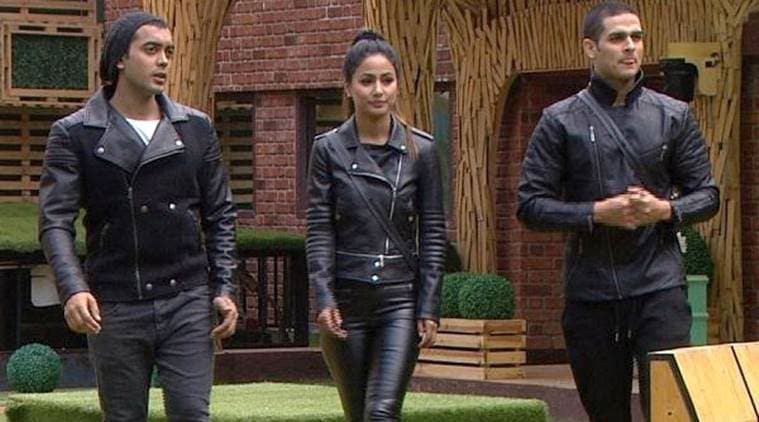 Luv Tyagi, Hina Khan and Priyank Sharma had struck a close friendship in Bigg Boss 11.
In a neck to neck count during the eviction, Luv lost to his sworn rival Vikas with a margin of merely 30 votes. Also time and again the audience saw him fighting hard against Vikas during tasks. When asked if he had a personal angst against him, Luv averred, "Initially, Vikas tried to portray me as someone who was good for nothing and that left a mark on me. He actually made me look like a fool and completely unworthy. So I had decided that I will prove him wrong anyhow."
During the live voting activity at the mall, we saw a lot of fans present cheering for him. We were also told that Luv blushed when female fans called out his name. With a shy smile he shared, "At the mall I realised that I will not win the show but I have definitely won hearts and it's a great achievement for me. As for female adulation, I am blessed to be showered with so much affection."
For Luv, the winner clearly is Shilpa as he shared, "Everyone in the show right now deserves to win but if you look at the entire journey, I really think Shilpa has a strong chance."
Defining his Bigg Boss journey as fabulous, Luv shared that he has always wanted to be an actor and would happily grab some offers. Lastly, thanking his fans, Luv shared, "All I can say is that I don't take the eviction to heart. Even I am disappointed but there's a new life waiting ahead. Also thank you for voting for me."